Interest in augmented reality has increased in the last few years. While most people might regard augmented reality as stuff for games, innovators are exploring its business relevance and the roles it can play in their businesses and customer experience and interaction.
Augmented reality holds a large amount of promise for changing the way businesses operate and how we relate with them. It is also projected to be an economic driver for the technology industry. Industry forecasters have put the market worth of augmented reality at $50 billion by 2024.
Augmented reality smart glasses alone are estimated to ship over 10 million units by 2021. Experts say the revenue from this industry will be split and affect a number of areas like gaming, education, healthcare, retail, and industrial, to name a few.
How Augmented Reality is being used by Innovative Companies
One way augmented reality is being used in business is in the area of 3D modeling. 3D modeling is most often used in the design process of cars and buildings.
It is also being used for training. Companies like Walmart and Chipotle are using augmented reality to train their employees. This enables them to give their employees hands-on training experience without the risk of them making costly mistakes in the real world.
In retail businesses, augmented reality is also being used as a way to allow customers to try products before they are purchased. This adds a whole new dimension to the customer experience.
Companies like Sephora use augmented reality in their apps to let customers see how their makeup products will look, while Wayfair uses it to show their customers how different items of furniture will look in their homes.
Smartphones and tablets are being used as an augmented reality platform to create a unique shopping experience and environment for customers, be it in a traditional store or an online one.
Harley-Davidson, with the help of an augmented reality application company, Marxent, created and now employs an iPad app that gives its customers a virtual shopping experience. Customers are given the ability to try out different body types, lights, rims, seats, and other options in order to create for themselves and view a custom bike design.
A retailer that has only an online store could make use of augmented reality technology to create a 3D shop that will virtually replicate the shopping experience of a traditional store. It will give customers the ability to try an item before purchasing it. This improves their satisfaction and reduces costly returns.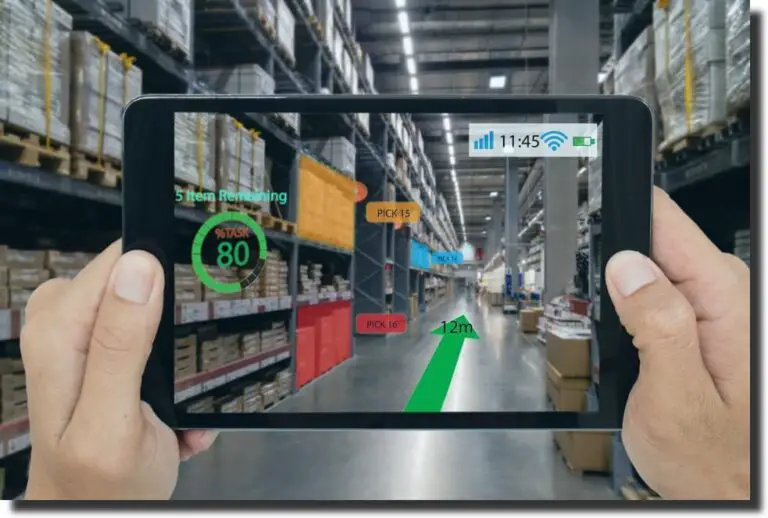 It can also be used as a map in large retail outlets, showing the customers the exact location and giving directions to specific products.
In Industrial Field Services
In Israel, the national water company with the help of an augmented reality company, Fieldbit, streamlined their repair services by making use of augmented reality smart glasses and a mobile app platform. This allowed its field engineers to be able to access remote assistance from experts or vendors anywhere in the world in real-time.
This allowed the remote expert to be able to put diagrams, markings, and messages in the engineer's field of view while keeping the hands free to perform fixes at the same time. This method improves safety, reduces confusion, and allows the engineer to communicate with experts about problems that arise in real-time.
Watermark Products, a major supplier of inflight products for the airline industry, using a plugin developed by augmented reality app company, Augment gave their designers the ability to visualize their product mockups at scale using tablets.
Instead of creating costly prototypes, they give clients an augmented reality experience that is able to depict comparisons of new and old products side-by-side. This allows clients to understand the impact of proposed new designs and upgrades.
Augmented reality is now being employed in medical education. The Cleveland Clinic in conjunction with  Case Western Reserve offers its medical students a 3D holographic anatomy program. This allows students while wearing a Microsoft HoloLens to take a deeper dive into virtual cadavers.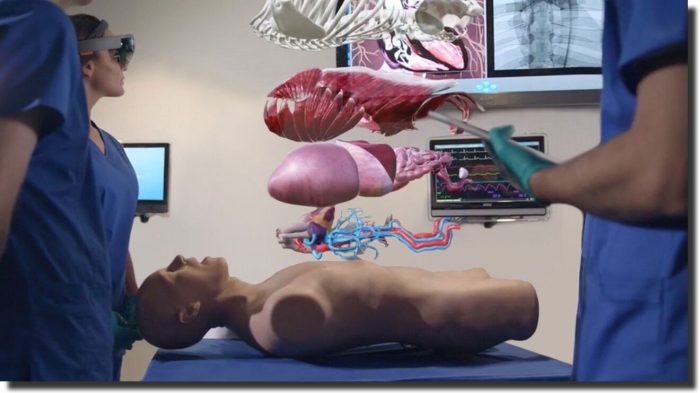 According to the school, this method now saves them dozens of hours in the traditional cadaver lab. It also provides an immersive, multisensory experience that is often a more effective teaching method than using textbooks.
Hyundai, in 2015 launched its augmented reality owner's manual. This enables its customers to get how-to information for maintenance, repairs, and vehicle features. The app contains 3D overlay images that appear when its users scan different areas of their vehicles.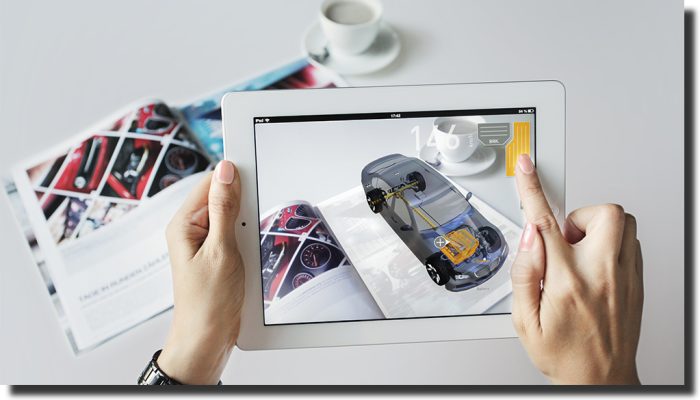 This makes it possible for even people with no experience to identify and perform some repairs on their vehicles. It improves customer satisfaction while at the same time reducing downtime and its associated costs.
Augmented reality keeps finding more and more application in different aspects of businesses. More and more companies are implementing this technology in different aspects of their services and products. The technology could very much be seen as the future that is here now and will continue to grow and be implemented in more and more ways.